20 Years with Harry Potter
Monday, June 26th, 2017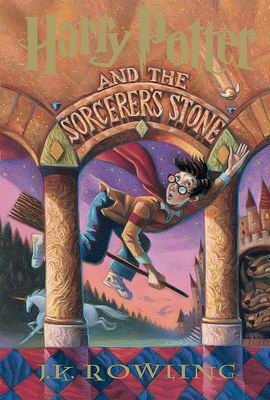 Twenty years ago today, the world was first introduced to a scrawny eleven year old with untidy hair and a lightning-bolt scar on his forehead. Harry Potter and the Philosopher's Stone (published in the U.S. as Harry Potter and the Sorcerer's Stone, of course) hit shelves on this date in 1997, and the series went on to become one of the biggest literary blockbusters the world has ever seen. More than 450 million copies of the books have sold worldwide, and the franchise now includes films, a theme park, and the online Pottermore community, where fans of the story can experience the Wizarding World in an entirely new way.
Despite it's wild popularity, the book wasn't an instant success. Author J. K. Rowling received multiple rejections from publishers unwilling to take a chance on a book about young witches and wizards, and even tried submitting the book under her pseudonym, Robert Galbraith, to no avail. Eventually, though, Rowling's persistance paid off. Bloomsbury Publishing, a UK publisher, accepted the book, and from there it wasn't long before Harry had crossed the pond and gained an American following as well.
As the first generation to grow up with Harry and his friends is now beginning to pass the story on to their own young readers, this 20th anniversary marks the start of a whole new era for Potter fans. Though these new readers may not experience the agony of waiting for the next book's release date, or the thrill of a midnight release party, there's still something special about the world that Rowling has created that transcends the stories themselves. The Wizarding World continues to grow. New films based on Rowling's companion book, Fantastic Beasts and Where to Find Them, are already in the works, and the stage play The Cursed Child, which takes place after the original series, will open on Broadway in the spring of 2018. Until then, fans can take part in the official Harry Potter book club hosted by Pottermore, or experience the books via downloadable audio, which is now available for the first time through independent bookstores.