The 2023 Audie Award Finalists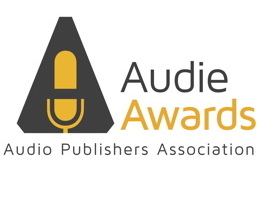 Founded in 1995, the Audie Awards represent the premier awards program in the United States, recognizing distinction in audiobooks and spoken word entertainment. Finalists are selected in 24 different categories ranging from children's titles to memoir, including categories for best male and female audio performer. Winners will be announced in March at the annual Audie Awards Gala.
Did you know you can enjoy digital audiobooks while supporting your favorite indie bookstore? Check out Brilliant Books Audio for your next great audiobook, including many of the finalists listed below!
---
Audiobook of the Year
Finalists:
Also nominated: Wake: The Hidden History of Women-Led Slave Revolts, narrated by Full Cast
---
Fiction
Finalists:
---
Non-Fiction
Finalists:
Also nominated: The Soul of the Indian: An Interpretation, narrated by Shaun Taylor-Corbett
---
Autobiography/Memoir
Finalists:
---
Fantasy
Finalists:
---
Romance
Finalists:
Also nominated: Seatmate, narrated by Amanda Ronconi, Zachary Webber, and more
---
Thriller/Suspense
Finalists:
---
Young Adult
Finalists:
---
Best Female Narrator
Finalists:
Joniece Abbott-Pratt for Nightcrawling by Leila Mottley
January LaVoy for Thistlefoot by GennaRose Nethercott
Stephanie Németh-Parker for NSFW by Isabel Kaplan
Thandiwe Newton for War and Peace by Leo Tolstoy
Rosamund Pike for The Eye of the World by Robert Jordan
---
Best Male Narrator
Finalists:
Edoardo Ballerini for The Silent Sisters by Robert Dugoni
Scott Brick for Narrator by Landon Beach
JD Jackson for The Violin Conspiracy by Brendan Slocumb
Seth Numrich for Fairy Tale by Stephen King
John Pirhalla for Sleepwalk by Dan Chaon
---
Best Multi-Voiced Performance
Finalists:
---
We provide all our audiobooks through Libro.fm, a great online service that provides hassle-free audiobooks while supporting indie bookstores! It's a great alternative to You-Know-What, plus you get to support Brilliant Books with every purchase. (And did you know: we also use Libro to provide our Brilliant Books Monthly Audio subscription!)
---
Want more of the year's best audiobooks? Find the whole list at the AudioFile Magazine website:
See More Audie Award Finalists
Back to the Top Audies Homepage