Amical's Cookbook Dinner Series: Japanese Soul Cooking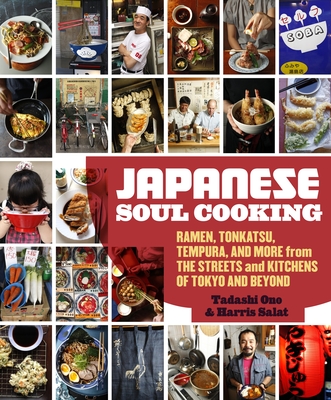 Amical's Cookbook Dinner Series picked up again this past Monday, January 6th. If you haven't checked it out yet, don't miss your chance! The menu for this segment is based on recipes from Japanese Soul Cooking by Chef Tadashi Ono and food writer Harris Salat.
In Japanese Soul Cooking, Tadashi Ono and Harris Salat introduce you to this irresistible, homey style of cooking. As you explore the range of exciting, satisfying fare, you may recognize some familiar favorites, including ramen, soba, udon, and tempura. Other, lesser known Japanese classics, such as wafu pasta (spaghetti with bold, fragrant toppings like miso meat sauce), tatsuta-age (fried chicken marinated in garlic, ginger, and other Japanese seasonings), and savory omelets with crabmeat and shiitake mushrooms will instantly become standards in your kitchen as well. With foolproof instructions and step-by-step photographs, you'll soon be knocking out chahan fried rice, mentaiko spaghetti, saikoro steak, and more for friends and family.
Get a taste of Japanese Soul Cooking this weekend at Amical, then stop by Brilliant Books and pick up a copy to explore on your own!
View the full Cookbook Dinner Series: Dates and Flavors

$27.50
ISBN: 9781607743521
Availability: Ships from our warehouse today
Published: Ten Speed Press - November 5th, 2013
---