Author Feature: Angeline Boulley
I first read Firekeeper's Daughter earlier this fall, when I noticed that it was assigned reading for one of my courses. I know, I'm super behind! After all, it's been out for over two and a half years, and I've only heard amazing things about it from customers since I started working at Brilliant Books. But I never got around to it until this semester, and I'm so happy I finally read it!
For those who haven't read it yet, Firekeeper's Daughter is a young adult thriller that takes place on Sugar Island in northern Michigan in the year 2004. It tells the story of eighteen-year-old Daunis Fontaine, a half-Native, half-white girl who witnesses her best friend's murder. The events that unfold afterwards have Daunis wrapped up in an undercover FBI investigation into the development and use of a new drug, the origins of which have taken place on Sugar Island. The book won the Michael L. Printz Award, the William C. Morris Award, was voted Best Debut Novel and Best Young Adult in the Goodreads Choice Awards, and more. All these awards are very much deserved, as Firekeeper's Daughter is one of the best YA books I've read in recent years. I always say that everyone should read YA books, and if you're looking to pick one up, this is a great choice.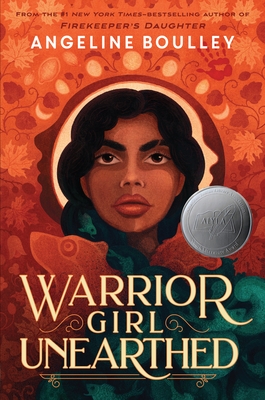 Firekeeper's Daughter took author Angeline (-line rhymes with "fine") Boulley a whopping ten years to write. In contrast, its companion novel, Warrior Girl Unearthed, only took her two years to write, and was released in May of this year. Based on the success and praise from Firekeeper's Daughter, it came as no surprise to us that we struggled with keeping Warrior Girl Unearthed on the shelf for more than a couple days at a time! Warrior Girl Unearthed takes place ten years after the events of Firekeeper's Daughter and is from the perspective of Daunis's young cousin, sixteen-year-old Perry Firekeeper-Birch. When Perry accidentally wrecks her Auntie Daunis's Jeep, she is given the punishment of a summer internship at a local museum to pay her back for the repairs (as someone with a degree in Anthropology and a museum-lover, I personally don't see this as a punishment, but I digress!). At first, she lacks any passion for the job, especially since she would much rather be fishing. But when her mentor introduces her to "Warrior Girl", a Native woman whose remains and knife are stored in the museum's archives, everything changes, and Perry feels she must return Warrior Girl to her people. Soon she learns about NAGPRA (the Native American Graves Protection and Repatriation Act) as well as the huge
wealth of stolen and hoarded Native artifacts, and realizes that getting Warrior Girl home will take much more (possibly illegal) effort than she initially thought.
Angeline Boulley is an enrolled member of the Sault Ste. Marie Tribe of Chippewa Indians and loves to write stories of her home and of indigenous women. She currently lives in southwest Michigan. The rights to Firekeeper's Daughter were purchased by Barack and Michelle Obama's production company, Higher Ground, to be adapted into a Netflix series. Warrior Girl Unearthed was recently awarded the Boston Globe-Horn Book award. Boulley is a regular speaker at Native American Heritage Month events, including the Ink & Impact Native Author Event in Shawnee, Oklahoma. She also gave the keynote address at the 2022 Annual Repatriation Conference for the Association on American Indian Affairs (AAIA). You can find updates from Boulley herself on her Twitter account, @FineAngeline. For more information about Boulley, her book tours, speaking engagements, and upcoming works, visit her website: AngelineBoulley.com.