Author Spotlight: Silvia Moreno-Garcia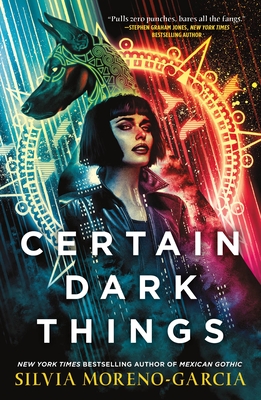 Sometimes a book comes back from the dead.
Though it doesn't actually need to be a book about vampires to pull off such a return, in the case of Silvia Moreno-Garcia's Certain Dark Things (a "neon-noir" vampire novel), the subject matter is certainly appropriate.
First published in 2016, Certain Dark Things faced bad timing and underpromotion and quickly went out of print without ever being released in paperback. But in the years since, as the book has gained traction and Moreno-Garcia has garnered further acclaim as an author and editor, publishers have finally realized it was time for a little literary resurrection. Now, Certain Dark Things is back, available for the first time in paperback, and with an awesome new cover.
We were so excited to see this book back on shelves this week, and we're such big fans of Moreno-Garcia's work in general, that we couldn't resist putting together a little author profile and sharing some more of our favorites!
---
About Silvia Moreno-Garcia
Silvia Moreno-Garcia is a Mexican-Canadian author and editor. Her recent (and perhaps best known) novel Mexican Gothic, has spent months on the Indie Bestseller List in both hardcover and paperback. Her latest novel, Velvet Was the Night, was just released in August to wide critical acclaim. In addition to her novels, Moreno-Garcia has also published a wide range of short fiction, and has edited multiple anthologies.
Dancing between genres from horror to romance to mystery thrillers, Moreno-Garcia infuses her stories with gripping prose, excellently balancing the personal with the universal. Many of her novels are set in Mexico, weaving through its cities and countryside as well as its culture, history, and mythology. She expertly subverts anglocentric plot devices and genres, crafting stories that both delight in their own right and draw attention to the ways in which past literature would have glossed over or whitewashed them. Her stories are often infused with mystery and magic, drawing from a range of cultures to create rich and vivid worlds that are a pleasure to explore, even when they're also a little (okay, sometimes a lot) terrifying.
Learn more about Silvia Moreno-Garcia's books below!
---
Those are some of our favorites from Silvia Moreno-Garcia! Want to see even more? Find all of her books here.