Book Chat: Hopepunk
All booklovers know one of the foolproof ways to get us talking is to ask about books. As booksellers, we have so many wonderful conversations about the nuances of writing, publishing, book aesthetics, our favorites and least favorites, and more. We thought it was high time we started broadening the conversation and sharing these chats with fellow readers and booklovers as part of an ongoing series. In this conversation, Stefen and Caitlin explore hopepunk, a sci-fi subgenre that's slowly becoming more mainstream.
---
Caitlin: So let's start with the basics. What is hopepunk?
Stefen: Oh man, I might need a moment. So many thoughts. To begin: Like with any 'punk' epitaph to genre, it's gotta be about social disruption.
There is a type of order, specifically enforced or represented by some all-encompassing technology (steam, cyber, diesel etc.), that must be broken apart or changed by something new, with the aim toward providing a better future. That's why I think it's definitely more catered to a scifi setting than fantasy, though one could argue N.K. Jemisin is writing hopepunk fantasy in her Broken Earth Trilogy. Again, though, it's about the technological interface between "control" and "society" that matters here.
C: I like the idea that it has to be subversive. It's like the squishiest kind of subversive, the "it's okay to cry" subversive instead of the "tear everything down" subversive.
S: Well, I think that's in there. I think anytime you put "punk" on a term, there's that disruption aspect: that disruption of the social order, some kind of minority against the majority or against established order. I think you have to have some amount of tear it all down. But that squishiness, too.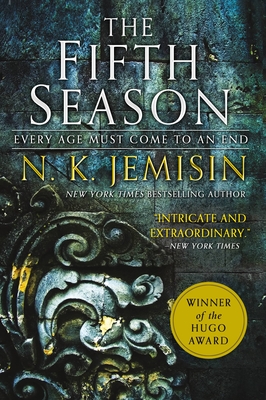 C: I think that what it's tearing all down is this idea that we have to maintain the status quo, the idea that the way things are is what we should be striving for. There was this idea that saving the world meant saving it as it is, and hopepunk says "Mmm, we're not, though." And yet, there still might be something good.
S: Yes, that idea that "a better world is possible but my god it's going to be messy getting there, holy shit." I really like those terms you found, Caitlin: Toxic Positivity VS Tragic Optimism.
C: Right, from that article in The Atlantic. That was such an interesting piece. I think between the pandemic and climate anxiety and all the everyday struggles, it's so refreshing to have this outlook that says "everything is awful" that doesn't have to be followed immediately by "but it could be worse," or "but look at everything you do have." There's something so intensely life affirming about admitting that yep, sometimes everything is just bad and there's nothing you can do to change that except sit with it and acknowledge it and move forward into something new when you can.
S: So I've been thinking about hopepunk genre-wise and, if you're taking it seriously as a sub-genre, what the precursors of it might be. Like, what exists that was part of this movement or that allowed this kind of thing to happen. At Clarion this year, "hopepunk" was the word. It was the thing, the buzzword on everybody's tongue. We had people who were self-described hopepunk writers or solarpunk writers. I'm still not sure exactly how those two fit—I think hopepunk is more the umbrella term and other things like solarpunk, which is more about renewable energy futures, sort of fit in underneath.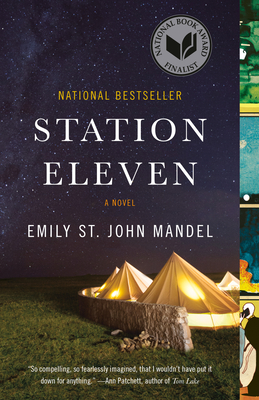 But in thinking about precursors—I started watching Station Eleven last night, the show, and I'm like "Oh, shit, this is totally precursor hopepunk." Because the book was out about 2014 and I think it kind of establishes an ethos—because hopepunk is very much an ethos, sort of this question of "how are you being in this world." There's that quote from Station Eleven, "survival is insufficient" that I think really sets that tone.
C: Yeah, that really sums up the whole thing.
S: Yes, very manifesto-y. If you wanted to tag that onto hopepunk, I think that would be a good starting point for describing what it is.
C: In looking at precursors, too, and especially the "punk" aspect of hopepunk, think it's also a little bit of a backlash against all the sort of dystopian disaster stories. We have all these thrillers where the world is ending and there's, you know, the chosen one who can stop it, and they do and everyone lives happily ever after. But we're living in a world now where, in so many ways, there's no stopping the multiple ends of the world. It's coming. It's happening. It has maybe already happened. The world as we know it has probably ended. But we're still here.
S: "The world as we know it has probably ended." Absolutely. Repercussions exist on a civilizational scale. No getting around that absolute fact.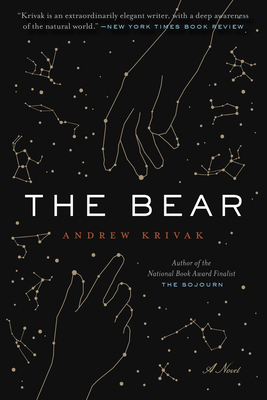 C: Right, you have to let go of what you thought was supposed to happen. Maybe that's why millennials are really into it… [laughs]
S: And there is no chosen one in this dystopia. We're not even just skeptical of chosen ones anymore, we're downright done with chosen ones.
C: I think a lot—not all, but a lot—of hopepunk is more concerned with cooperation, but not cooperation on a full societal level. It's cooperation within a very small group, friends or families, or like in The Bear by Andrew Krivak, where it's cooperation between the main character and the animals, or in The Centaur's Wife, where it's cooperation within this small remaining community.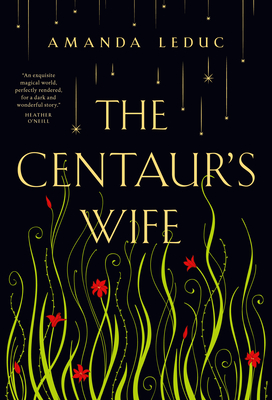 There's still this profound sense of isolation that I think is a backlash against the hyperglobal world we're living in now, but within that there's a sense of cooperation, at least among characters who are looking for and finding joy in this strange new world. There has to be some kind of connection, and not necessarily with other people, but with something.
S: Exactly, an unironic, uncynical attachment, not necessarily to a person.
C: Almost to an idea, I think. They're not idealists—they're not stuck in the mud staring at the stars, but they're also very aware that there are stars.
S: It strikes me as very stoic. There's a certain old-school stoicism to it.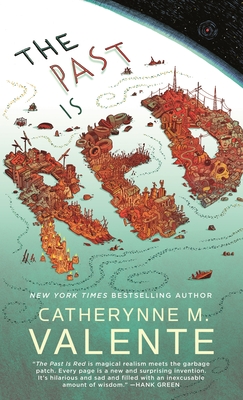 C: That's why, I think, in some of these stories, there are these tiny moments of exquisite joy. In reading The Past is Red, I think I described it as "the happiest post-apocalyptic book I've ever read" because Tetley Abednego is this absolute ball of sunshine who the world keeps trying to knock down. She lives on a floating patch of garbage and she keeps talking about how it's the most beautiful place in the world and she's so intensely unironic and uncynical about that that you believe her. As many times as she gets knocked down, she's so gloriously determined to find the best in things. And she's not unaware that she's been knocked down, so it doesn't grate in the way that some obnoxious positivity does. She just keeps pointing out that there are these wonderful things and is so unabashedly in awe of them. It's adorable, I love that book.
S: I'll have to read it. I forgot about that one! I'm glad it exists as an example, because I didn't really want to make a whole list just of Becky Chambers' books, even though you could.
C: Yes! And I think those point out another element of hopepunk, that it's also tragic. There's this really solid element of grief in it.
S: Grief as something that's completely okay and unavoidable.
C: Yes, which is why I think one aspect of hopepunk that makes it so appealing is the catharsis it offers. I think that's what we're getting out of hopepunk as a genre a little bit, this affirmation that yes, there is loss and there is grief and you have to process all of that instead of denying it.
S: It's the idea that "the worst has happened. Now what?" For me that's where the catharsis comes from. It reminds me of the feeling that I had during quarantine, like the early days of it, deep quarantine. Everything shuts down, I have nowhere to be, it feels like the end of the world a little bit, but there's also this weird sense of, like, excitement? Or of a possibility that's inherent in that situation. The idea of "okay, what do we do now?" There's so much we can do now.
C: The world is changing forever and we have control over how it changes. To an extent.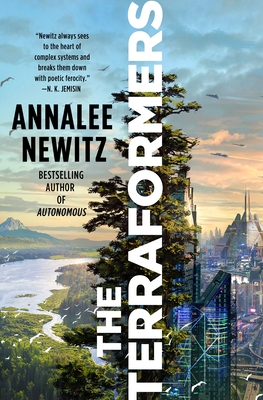 S: I get that same feeling with hopepunk, like watching Station Eleven last night, and with the books, like I started reading The Terraformers—
C: Oh, I'm not familiar with that one.
S: It's kind of getting buzzed about right now. I got the ARC and I think it could definitely be categorized as hopepunk. It's a far-future sci-fi, but it's very much concerned with everything that happened, like, thousands of years ago back on earth. At the point of the story, it's clear that it's taken a lot to move beyond that. It's kind of like reconciling your history with what you want the future to be.
C: So a really timely commentary.
S: Right? And for them terraforming is a result of this technology that allows them to communicate with other forms of life, so it becomes this very cooperative, very in-depth process of negotiating shared environments. Very early on in the story, they mention that this technology is the result of "Farm Revolutions" back on ancient earth. When they bring up farms, and earlier when you were talking about, like, the smaller scale of cooperation in hopepunk, I think both of those really drive home the—not exactly agricultural concern, but the eco-consciousness of it, the interface between technology and society. I think you need that in anything with the "punk" epitaph attached to it, but with hopepunk I think it's more about that interface between technology and the environment. I think that's where you start to see the different things that hopepunk is doing as a genre, where you get more of those subcategories like solarpunk and ecopunk. In the case of The Terraformers, it's a literal interface with what we used to consider non-sentient life so that now we can pay attention to these things that are being said.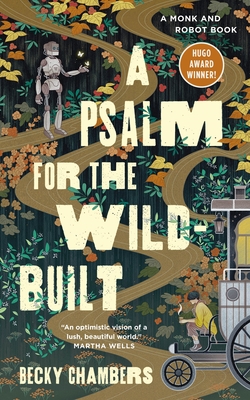 C: Are there any other books that you wanted to mention?

S: There's the Monk and Robot books…what was the first one again?
C: A Psalm for the Wild Built.
S: Yes, A Psalm for the Wild Built. In that one, too, they talk very early on about how in order to get to this point, we had to have a very serious reordering of the system, with essentially half of the planet being turned over to nature. So again, it's that idea of an eco-philosophy built into hopepunk, a conscientiousness about nature's place and humanity's place within that. Are there others that you have read?
C: Yeah, I mean, there are some that definitely fit, like The Light Pirate, and there are some that kind of fit, but they just don't quite have the right vibes—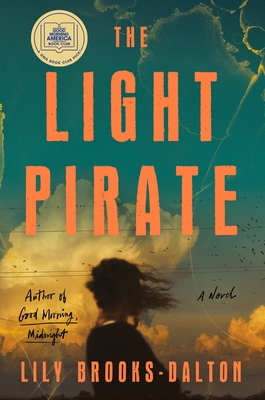 S: Okay, vibes, vibes. We do have to talk about vibes. There is a specific vibe to it, the same as with cyberpunk. You know you're reading cyberpunk and not just a sci-fi book set in the future with all this technology because cyberpunk has an attitude to it. There is an attitude to hopepunk that's still, I think, a little effervescent.
C: Right, it hasn't quite coalesced into something clearly defined. But you know it when you read it. I was thinking about Stephenson's Seveneves, which doesn't feel like hopepunk, whereas something like Noor really feels hopepunk-y, but also doesn't quite check all of the boxes. It's got a little bit more of the chosen one vibe to it, but it feels like hopepunk. Things like The World Gives Way, which is not terribly hopeful, but still feels like hopepunk. It's an interesting little niche. I think it will be fun to see what happens as it becomes more recognized as a sub-genre. The more people who recognize what you mean when you say hopepunk, the more interesting it will get, I think.
S: I have a friend who's sitting on a panel discussion specifically about hopepunk, so that might be an interesting thing to check out. See what writers are up to and their take on the whole thing. It's open to the public.
C: Fun! It's definitely a genre to watch, for sure. I'd love to hear how writers are envisioning these worlds as well as how we as readers are relating to them. Thank you for taking the time to chat!