Catching Flight: Soaring on the Wings of Birds (Library Binding)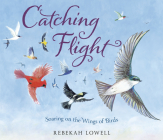 $26.39

Not Currently In-Store; May require 2-3 days before shipping
Description
---
Intricately detailed birds seemingly fly off the pages of this poetic and encouraging picture book about hope and resilience. It's the perfect gift for birdwatchers, graduates, or anyone seeking motivation.

Catch the current of a bird's wing. Dance with hope into open skies.

From avid birder and acclaimed wildlife illustrator Rebekah Lowell comes a soaring message of encouragement.

Readers will find inspiration in a Yellow Warbler greeting a sunrise, a flock of Canada Geese supporting each other by sharing the weight of the wind, a Red-Tailed Hawk trusting its own wings, and a plucky Northern Saw-Whet Owl braving a chilly night.

Ending on the optimistic note of a new day, this book is a parable about enduring life's setbacks, as well as a glorious celebration of the outdoors.

An afterword is included, with factual information about the ten birds featured in the book.
About the Author
---
REBEKAH LOWELL is an author, illustrator, and surface designer with a passion for the natural world. As a survivor of domestic abuse, she has found the outdoors to be a healing grounds. Rebekah has a BFA in illustration from Rhode Island School of Design and an MFA in children's literature and illustration from Hollins University. Her artwork has been featured on the Maine Duck Stamp five times, and she is also an art educator, locally and online. Her debut novel in verse, The Road to After, was published by Nancy Paulsen Books in 2022. Catching Flight is her debut picture book. When she's not in her studio, you can find Rebekah wandering outside—birding, gardening, nature journaling, rescuing birds for Avian Haven, and raising butterflies—often with her daughters, whom she homeschools. She lives with her family in her hometown of Biddeford, Maine. See more of Rebekah's work at rebekahlowell.com, and follow her on Instagram at @rebekahlowell and on Twitter at @RebekahLowell.
Praise For…
---
"Gorgeous."—Kirkus

"Catching Flight is a beautiful and poetic breath of wind beneath the imaginative wings of any child who reads it."—Scott Weidensaul, New York Times bestselling author of A World on the Wing and Living on the Wind

"Catching Flight captures the longing to fly free like birds in perfect whimsy—the kind of whimsy that only nature can provide. The story toggles on a beautifully balanced line between fact and emotion with illustrations to match. The art provides a clear understanding of the various birds included, what they look like, how they behave while at the same time, being transported to a warm and inviting dream."—Jane Kim, Ink Dwell

"This picture book is really about more than birds; it's an exhortation to partake in the joys that life has to offer, even through its inevitable storms—if you dare to spread your wings and fly."—Brian Lies, Caldecott Honor author-illustrator of The Rough Patch

"It's hard to tell which I love more: the poetic meditation on moving forward into each new day with joy, confidence, and curiosity, or lingering in each page with the gorgeously rendered birds. I guess, I'll just have to read it again. And again. And again.—Heidi E.Y. Stemple, author of Counting Birds and Whose Nest Is Best?

"Beautifully illustrated birds fly off the page and straight into your heart, each with a unique message of hope, inspiration, courage, and resilience."—Liz Clayton Fuller, American Birding Association Artist of the Year, 2023