Mr. Nogginbody and the Childish Child (Hardcover)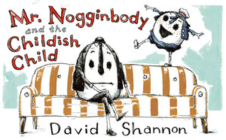 $17.95
Ships from our warehouse today
Description
---
Best-selling creator David Shannon walks the line between childish and grownupish in his playful and brilliantly accomplished new picture book.
When Mr. Nogginbody has to babysit, he thinks it should be straightforward: give the child a chocolate soda so he'll do his homework. Unfortunately for Mr. N, he follows those steps in that order, and the child refuses to study, teasing his sitter and jumping on the couch just out of reach. Determined to put a stop to the childish shenanigans, Mr. Nogginbody jumps up after him. But he quickly discovers just how much fun being a kid can be.
The ovoid hero of Mr. Nogginbody Gets a Hammer, which "has the timeless exuberance and psychological profundity of a great comedy" (Publishers Weekly, starred review), returns in another humorous tour de force from beloved picture book creator David Shannon. Grownupish grownup . . . What in the world does that mean?!"
About the Author
---
David Shannon is the creator of the Caldecott Honor–winning No, David! and more than thirty other books beloved by children who "recognize immediately that they have found a kindred spirit" (New York Times). He lives in Los Angeles, California.