Snow Day for Groot! (Hardcover)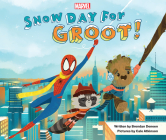 $12.99
Ships from our warehouse today
Description
---
The third book in the hit Rocket and Groot picture book series, following up to Night Night, Groot and First Day of Groot!
"Enjoyable even for the uninitiated." -Kirkus Reviews
Arrive in New York on the first day of snow.
As the sun hits the city, it practically glows.
Best pals Rocket and Groot have the day off from guarding the galaxy, so they're heading to the Big Apple! Spider-Man is waiting to show them the city-which just so happens to be covered in glittering snow. The three pals swing through the boroughs enjoying famous NYC winter activities, from sledding in Central Park to ice skating at Rockefeller Center. This is one snowy adventure you don't want to miss!
About the Author
---
Brendan Deneen is the award-winning author of Night Night, Groot, as well as the all-ages graphic novels Green Arrow: Stranded, Flash Gordon: The Mercy Wars, and The Island of Misfit Toys. He is also the father of two daughters, who love to build snow people with their dad and then enjoy many, many cups of hot cocoa!
Cale Atkinson is an author and illustrator whose titles include Explorers of the Wild, To the Sea, Off & Away, Sir Simon: Super Scarer, and more. When he's not helping the Avengers defend the Earth or adventuring with Rocket and Groot, he can be found with his family in Kelowna, British Columbia.
Praise For…
---
"It's time to relax once / the battle is done. / A SNOW DAY FOR GROOT / ensures wintery fun!" A kid-sized Groot and his best buddy, Rocket Raccoon, have the Guardians of the Galaxy drop them off on Earth during the first snow of the year in New York City. A scarf-clad Spider-Man takes the duo on a tour of the city's sights: the New York Public Library, the Statue of Liberty, Times Square, etc. They also go sledding and ride the subway, all with various members of the Marvel Universe looking on or participating in the snow-day activities. But little Rocket rather abruptly feels ignored by Spidey and Groot until Groot notices and changes his three-word catchphrase to "We are Groot...?" Then all is well, and the day ends with skating at Rockefeller Center and some tree trimming. Deneen and Atkinson retest for this third rhyming Groot episode. Heroes and villains, both well known and obscure, wave from the sidelines or participate in the snowy fun, all conveyed in bright, dynamic cartoon illustrations with occasional dialogue bubbles. Eagle-eyed mini Marvel mavens can hunt for Ant-Man and the Wasp in nearly every illustration.
Enjoyable even for the uninitiated."
—
Kirkus ReviewsPRAISE FOR FIRST DAY OF GROOT!
"Sharing, counting, and spelling are all learned before lunch, when friends gather. Teamwork is tackled afterward, when Thanos attacks, and the last lesson involves music. It's a great day for Groot, and for readers who are fans, it will certainly hit the spot."—
Kirkus Reviews