Best iPad Apps: The Guide for Discriminating Downloaders (Paperback)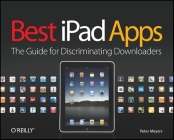 Description
---
What really wows iPad fans is when their touchscreen does what's impossible on other gadgets: the finger-painting app that turns a cross-country flight into a moving art class, the mini music studio (two-dozen instruments strong, each with motion-induced warble effects), and the portable fireworks display that you sculpt by swiping.
Problem is, with tens of thousands of apps available for your iPad, who knows what to download? You can try to sort through a gazillion customer reviews with a mix of 5- and 1-star ratings, but that's a head-hurting time-waster. The stakes are getting higher, too: instead of freebies and 99-cent trinkets, the price of iPad apps is steadily creeping up and beyond their iPhone predecessors.
Best iPad Apps guides you to the hidden treasures in the App Store's crowded aisles. Author Peter Meyers stress-tested thousands of options to put together this irresistible, page-turner of a catalog. Inside these pages, you'll find apps as magical as the iPad itself.
Flip through the book for app suggestions, or head directly to one of several categories we've loaded up with best of selections to help you:
Get work done
Manipulate photos
Make movies
Create comics
Browse the Web better
Take notes
Outline ideas
Track your health
Explore the world
No matter how you use your iPad, Best iPad Apps will help you find the real gems among the rubble -- so you make the most of your glossy gadget.
About the Author
---
Peter Meyers designs, speaks, and writes about digital books. After co-founding pioneering multimedia textbook publisher Digital Learning Interactive, he launched a successful career as a freelance journalist, writing about the strange and wonderful effects of computers on mainstream culture for many publications, including the New York Times, the Wall Street Journal, Wired, Salon, and the Village Voice. During a subsequent five-year tour of duty at O'Reilly Media he worked in the Missing Manual group, serving as managing editor and associate publisher. His most recent writing projects include Best iPad Apps (O'Reilly Media, 2010) and Breaking the Page: Transforming Books and the Reading Experience. He blogs at www.newkindofbook.com and you can follow him on Twitter @petermeyers. Peter's undergraduate degree is from Harvard, where he studied American history and literature, and he has an MFA in fiction from the Iowa Writers' Workshop.