Best iPhone Apps: The Guide for Discriminating Downloaders (Paperback)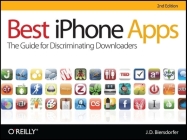 Description
---
With over 250,000 apps to choose from in Apple's App Store, you can make your iPhone or iPod Touch do just about anything you can imagine -- and almost certainly a few things you would never think of. While it's not hard to find apps, it is frustratingly difficult to find the the best ones.
That's where this new edition of Best iPhone Apps comes in. New York Times technology columnist J.D. Biersdorfer has stress-tested hundreds of the App Store's mini-programs and hand-picked more than 200 standouts to help you get work done, play games, stay connected with friends, explore a new city, get in shape, and more.
With your device, you can use your time more efficiently with genius productivity apps, or fritter it away with deliriously fun games. Play the part of a local with brilliant travel apps, or stick close to home with apps for errands, movie times, and events. Get yourself in shape with fitness programs, or take a break and find the best restaurants in town. No matter how you want to use your iPhone or iPod Touch, Best iPhone Apps helps you unlock your glossy gadget's potential.
Discover great apps to help you:
Get work done
Connect with friends
Play games
Juggle documents
Explore what's nearby
Get in shape
Travel the world
Find new music
Dine out
Manage your money

...and much more
About the Author
---
J.D. Biersdorfer is the best-selling author of iPad: The Missing Manual, Best iPhone Apps (Second Edition), Netbooks: The Missing Maunal, and The iPod Shuffle Fan Book. She is the co-author of iPod: The Missing Manual, Google: The Missing Manual (Second Edition), iPhoto '09: The Missing Manual, and The Internet: The Missing Manual. She has authored the weekly technology column Q&A for the New York Times since 1998 and often writes about art, books, and design for other sections of The Times. J.D. also co-hosts the independent Pop Tech Jam audio podcast, which explores current events in the world of technology and geek culture.