Disappearing Ox (Hardcover)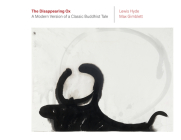 $28.00
Ships from our warehouse today
Description
---
Lewis Hyde is a major cultural figure, most famous for his perennial best-seller The Gift
Includes ten sumi ink-wash paintings by New York artist by artist Max Gimblett
The Disappearing Ox sees translation in a revolutionary new way, with Hyde including three different versions of the classical Chinese side-by-side-by-side, allowing readers to discover many levels of these poems
Lewis Hyde is regarded as a patron saint of the countercultural movement, with his book The Gifthaving been widely praised by David Foster Wallace and Zadie Smith, and adopted as a "theory bible" of the Burning Man festival
Hyde is a MacArthur "Genius" Fellow.
About the Author
---
Lewis Hyde is a celebrated poet, translator, essayist, and cultural critic. Hyde has been the recipient of a MacArthur fellowship, a Guggenheim fellowship, and a Lannan Literary fellowship. Hyde is a former professor of creative writing and American literature at Kenyon College, and former director of undergraduate writing at Harvard University. In previous works like The Gift (1983), Trickster Makes This World (1998), and Common as Air (2010), Hyde explores the role of art in cultural imagination, defending the non-commerciality of artistic practice and exploring the ways ideas from the past inform the present. Hyde's most recent book, A Primer for Forgetting (2019), investigates when forgetfulness might be more useful than memory. Hyde is a trustee of the MacDowell Colony and a founding director of the Creative Capital Foundation. He lives in Cambridge, Massachusetts with his wife, the writer Patricia Vigderman.