How to Be Comfortable in Your Own Feathers (Paperback)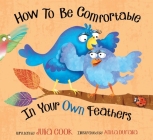 $10.95

Not Currently In-Store; May require 2-3 days before shipping
Description
---
Bluebird, along with most everyone else at school, wants to flutter like the most popular bird in their class, Hummingbird.
"You should go on a diet, and work out at the gym.
You could flutter like me, if your body was thin."
Bluebird takes this comment seriously and starts to develop unhealthy eating habits. Mom comes to the rescue by teaching Bluebird balance and by explaining that everyone needs to feel comfortable in their own feathers. With help from the Bird Doc and the Food Voice Counselor, Bluebird learns to control the Food Voice that is living inside.
"I'm working on balance one day at a time.
If I keep working hard, I should be just fine."
How to be Comfortable in Your Own Feathers uses a creative approach to speak to children who may be currently struggling with body-image concerns. This story is written in a manner that gives children an opportunity to apply the characters' experiences to their own lives. It also demonstrates appropriate adult responses that encourage the development of healthy eating habits. Includes "Live It" Dos and Don'ts.
About the Author
---
Julia Cook, M.S. is a national award-winning children's author, counselor, and parenting expert. She has presented in thousands of schools nationally and internationally, regularly speaks at education and counseling conferences, and has published children's books on a wide range of character and social development topics. The goal behind Cook's work is to actively involve young people in fun, memorable stories and teach them to become lifelong problem solvers. Inspiration for her books comes from working with children and carefully listening to counselors, parents, and teachers, in order to stay on top of needs in the classroom and at home. Cook has the innate ability to enter the worldview of a child through storybooks, giving children both the "what to say" and the "how to say it."