Art Walk 2022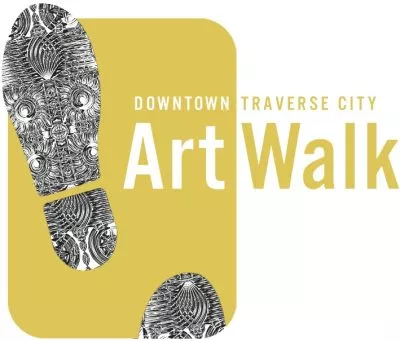 Thanks for coming out to Art Walk to support local artists and Traverse City's vibrant art scene!
From 4-7pm on Friday May 6th, Art Walk took over Downtown TC. There were music shows, pop-up galleries, and so much more. Local artist Rebecca Howe set up shop in Brilliant Books. They set up a mini gallery and shop—and even did some live painting! Check out photos from the event below—as well as our our mini-intereview with Rebecca below.
Stop by Brilliant Books the rest of the weekend to browse (and buy) Rebecca's art, illustrations, and prints!
See more, higher quality photos photos at the gallery below
About the Artist:
Rebecca Howe is a Traverse City-based visual artist who creates children's illustrations, murals and abstract landscape paintings on canvas, wood and paper. In fine art paintings, Rebecca blurs the boundaries between abstract, figurative and narrative disciplines using acrylic paint, hand-painted paper collage, pastel, ink and other materials. In illustration, Rebecca uses similar painting and collaging techniques as well as scanned, hand-made papers using software like Procreate and Photoshop. Visit their website.
Get to Know Rebecca:
What first got you interested in art?
I've always made art or useful things or nonsense things since as long as I can remember. We always had junk and materials around because of my parents' work at flea markets and auctions and house clean outs. Both my parents were entrepreneurs who demonstrated the cycle of trying-failing-restarting often. They aren't artists but I think there's a creative mindset there.
Who are some of your favorite artists?
I'm terrible at this, I forget everyone's names. I'd say my favorite artists are the ones who are always pushing past what they understand already, who integrate art into who they are and so the way they move in the world is expansive and wild.
What's your favorite medium and why?
Maybe I don't have a favorite medium so much as a favorite way of working. I like to use things I can't fully control, that surprise me. Lots of materials can be used this way. This way feels like a natural extension of my body and mind. I learn about myself through making art. Maybe there's some other medium I just haven't tried yet that I'll love. I just saw some pottery sculpture that made me want to rush out and buy clay . . .
What are your most (and least) favorite subjects to depict?
I think abstract textures, shapes, organic lines, saturation contrasts with layers built up really draw me in and excite me. These things remind me of who I am and make me feel free at the most elemental level, maybe a spiritual level. My least favorite things to do are very carefully realistic drawings or paintings. I hate being restricted.
What's the work you are most proud of?
Being myself and liking myself is the work I'm most proud of. I don't think we can do the work we're meant to do in the world without working at ourselves in a really raw, painful sort of way.
What's the best thing someone has ever told you about your work?
"WHOOOAAAAAA YOU MADE ALL THAT!!!" —One of my 9-year-old students who had never seen my work. I can be so focused on the next thing I want to do that I forget to look back and appreciate how much I've figured out already.
---
The 2022 Art Walk Photo Gallery:
Please use a computer for best viewing experience.
Event date:
Friday, May 6, 2022 -

4:00pm

to

7:00pm