Meet the Contributors: Thomas Lynch, Jonathan Johnson, & Cameron Witbeck
Wednesday, August 9th, 2017
7 - 9 pm
We're thrilled to welcome three of the contributors to And Here: 100 Years of Upper Peninsula Writing, 1917-2017. Join us for an evening with National Book Award Finalist Thomas Lynch, as well as Jonathan Johnson and Cameron Witbeck.
Thomas Lynch Cameron Witbeck Jonathan Johnson
Get a sneak peek of the book and hear other contributors reading their works below!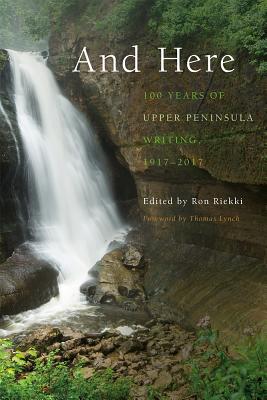 "The Upper Peninsula of Michigan runs through the veins of those of us born there and calls a siren song to those who are compelled to visit. And Here: 100 Years of Upper Peninsula Writing, 1917-2017, beautifully conveys this unorthodox country through the best words and best writers of the past and present. It's the quintessential reader for anyone called to this area either by blood or soul. Or both."
Upper Peninsula literature has traditionally been suppressed or minimized in Michigan anthologies and Michigan literature as a whole. Even the Upper Peninsula itself has been omitted from maps, creating a people and a place that have become in many ways "ungeographic." These people and this place are strongly made up of traditionally marginalized groups such as the working class, the rural poor, and Native Americans, which adds even more insult to the exclusion and forced oppressive silence. And Here: 100 Years of Upper Peninsula Writing, 1917-2017, gives voice to Upper Peninsula writers, ensuring that they are included in Michigan's rich literary history. Ambitiously, And Here includes great U.P. writing from every decade spanning from the 1910s to the 2010s, starting with Lew R. Sarett's (a.k.a. Lone Caribou) "The Blue Duck: A Chippewa Medicine Dance" and ending with Margaret Noodin's "Babejianjisemigad" and Sally Brunk's "KBIC." Taken as a whole, the anthology forcefully insists on the geographic and literary inclusion of the U.P.--on both the map and the page.
Can't join us for the event itself? Preorder your copy and we'll get it signed for you! Just let us know how you'd like your book inscribed.
Event date:
Wednesday, August 9, 2017 -

7:00pm

to

9:00pm

$29.95
ISBN: 9781611862591
Availability: On Our Shelves Now
Published: Michigan State University Press - August 1st, 2017
---