Independent Bookstore Day Goes Virtual!
Saturday, April 25th, was scheduled to be Independent Bookstore Day. We had big plans for all kinds of in-store events, but obviously, we've had to get a bit creative. Some of those special events will move to the new Independent Bookstore Day in August (mark your calendars for August 29th!). But since we could all use a bit of a pick-me-up these days, we're moving some of those special events online so we can share them all with you! Check back each day this week for something new and fun, plus plenty of awesome offerings happening all week long, or sign up for our emails to get the latest updates!
---
Monday, April 20th:
Our friends over at Libro.fm are at it again! Seriously, they're some of the biggest advocates for indie bookstores that we know of—and since our patrons are pretty incredible, that's really saying something. This week, if you sign up for Libro.fm membership, 100% of your payment goes directly to Brilliant Books, plus you can download two FREE audiobooks on Saturday, April 25th.
---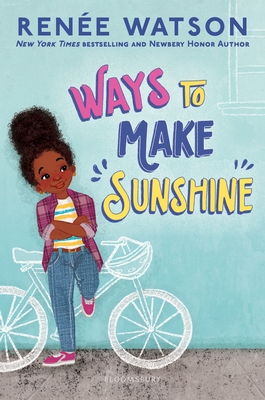 Tuesday, April 21st:
Many of the special items created specifically for Bookstore Day won't be available until the rescheduled August event, but Renee Watson's adorable new series kicks off this week with a special edition of Ways to Make Sunshine! Not only is it signed, but it also includes a letter from the author herself! Only a limited number are available, so be quick!
---
Wednesday, April 22nd:
Our Brilliant Books Monthly sticker competition has finally come to a close and we got so many incredible submissions that we couldn't choose just one! Congratulations to Matt from Indiana and Lisa from California! They've both won a year-long subscription and their stickers will be featured in our kids' and young adult welcome boxes in the coming months!
---
Thursday, April 23rd:
We had planned to unveil a new feature in the store this week as part of our Independent Bookstore Day celebration, but since we can't be there to do this in person, we'll just have to do it digitally! Junior bookseller-in-training Hazel has graciously agreed to give a little demonstration on how it's done.
---
Friday, April 24th:
What a great way to end the week! Today, since we were all missing being in the store, we were going to share our newly created Zoom backgrounds so that everyone could be transported (at least digitally) into their Long Distance Local Bookstore. Instead, we got some even better news: our staff are allowed back into the store! It's a small step toward normal, and we want to be cautious, as COVID-19 is still a threat, but after so much bad news, it's a welcome change. So fire up Zoom, add a new background, and imagine the days when we can all be together again in our bookish home away from home.
---
All Week Long:
Give a gift, get a gift!
When you give $100 in gift certificates, you'll earn a $10 certificate for yourself. Give more than $100 and you'll earn even more: a total of 10% of what you've given. Just place the orders for your gift certificates online, enter the email addresses for the recipients, and we'll take it from there. Your gift certificate will arrive in your inbox shortly.
---
Personalized recommendations available to all!
Usually, our hand-curated book lists are only available to Brilliant Books Members, but right now, our booksellers can't recommend books in-store. So, while we're all staying indoors, we've opened up this service to everyone! Just let us know what you're in the mood to read and our team of expert booksellers will put together a list of books we think you'll love.