Jerry Pinkney (1939-2021)
Jerry Pinkney. Photo by Jacob Blickenstaff
Jerry Pinkney, one of America's most treasured illustrators, passed away on October 20th, at the age of 81.
Best known for his breathtaking watercolor illustrations of children's stories, Pinkney breathed new life into old tales and shone light upon Black American stories and icons, from John Henry to Martin Luther King, Jr. Over the course of his long career, Pinkney received a number of awards, including the coveted Caldecott Award (for his beautiful, wordless retelling of The Lion and the Mouse) and the Coretta Scott King–Virginia Hamilton Award for Lifetime Achievement.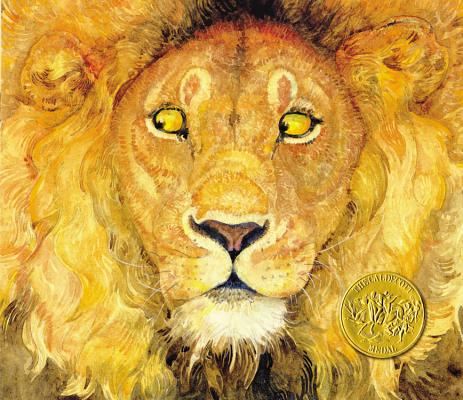 Pinkney's cover art for The Lion and the Mouse (2009).
Pinkney started drawing young, primarily as an escape from the world around him. Growing up in a crowded house in 1940's Philadelphia, Jerry Pinkney's childhood was haunted by anxieties of war and racism, with Jim Crow laws still enforced across the country. "[With art] I brought to life what was inside my head, creating a world where I was not nervous, where there was no yelling, no loud music, ... no bullying," he wrote in an essay for WHYY. "There were no police sirens in my illustrated world, either, or city curfews, or newspaper headlines exclaiming the lynching death of Emmett Till, just two years younger than me. Real life was scary, but in drawing, I felt safe."
And he kept on drawing, from sketches to greeting card designs to book covers and illustrations. Now, generations of young readers have been able to find safety and comfort in Pinkney's imaginary worlds, ushered into his rich imagination by his warm and beautifully human illustrations. His artwork has been especially valuable in his renditions of Black stories, beautifully visualizing African American experiences with an emphasis on Black excellence, love, and joy.
In addition to his work in book illustration, Pinkney celebrated African American stories through partnerships with the U.S. Postal Service, the National Park Service, and National Geographic. He also worked as an educator, and served on the National Council of the Arts and the American Academy of Arts and Sciences, working to promote arts and humanities.
While we are deeply sorry to have lost such an incredible artist and human, we are so grateful for the enduring and stunningly illustrated stories that he has left with us. Jerry Pinkney will be remembered.