Jim Harrison: A Genuine Life
Today, The Search for the Genuine hits shelves, bringing into the light some of Jim Harrison's greatest essays and journalism — some never before published. This posthumous collection from a giant of American literature and poetry has us looking back at Harrison's life, career, and connections to us in Northern Michigan.
Jim Harrison...was among the great ones—an elevated soul in all his unruliness who favored his senses and courted the wild on the page and in the world. His was a storied life that loomed large, and we are the beneficiaries.

— Terry Tempest Williams, in her introduction to Jim Harrison: Complete Poems
Born in Grayling, Michigan (just an hour's drive east of Traverse City) in December of 1937, Harrison spent his childhood and adolescence in small town Michigan. Harrison became interested in poetry as a teenager, and drew inspiration from Richard Wright, Walt Whitman, and Pablo Neruda, among others. He attended Michigan State, where earned a BA (1960) and MA (1964) in comparative literature — and soon after, he published his first poetry collection.
As he continued writing, Harrison became known for free-flowing verses and an intimate reverence for the uncivilized. As he wrote from his cabin in Leelanau County, Michigan, or later from small-town Arizona and Montana, he brought his readers across the rural landscapes of America, from Michigan's Upper Peninsula to the mountains of Montana and the Arizona-Mexico border. He entranced readers with deeply human stories of family, love, and violence, set against the backdrop of a stunning but unsympathetic world.
I like grit, I like love and death, I'm tired of irony. ... A lot of good fiction is sentimental. ... The novelist who refuses sentiment refuses the full spectrum of human behavior, and then he just dries up. ... I would rather give full vent to all human loves and disappointments, and take a chance on being corny, than die a smartass.

—Jim Harrison
Over the course of his career, Harrison published 17 collections of poetry, as well as a dozen novels, nine novellas, and five nonfiction titles. He received much critical acclaim, earning three National Academy of Arts grants (1967, 1968, and 1969), a Guggenheim Fellowship (1969–70), and election to the American Academy of Arts and Letters (2007).
In addition to his work in literature, poetry, and journalism, Harrison also tried his hand at screenwriting. His first screenwriting credit was for the 1994 film Legends of the Fall: an adaptation of Harrison's book of the same name. He went on to write and co-write several more films, including the 1994 film Wolf, which was awarded the Saturn Award for Best Writing.
Extravagantly talented, critically adored, more famous than most literary novelists . . . Jim Harrison gave his life to [writing], and American literature is richer as a result.

—Gregory Cowles, New York Times Book Review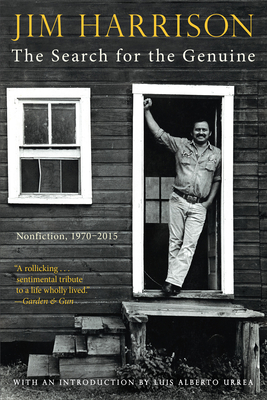 Now, six years after his passing, we are so excited to see a Jim Harrison collection back on our New Arrivals table. Full of Harrison's humor, compassion, and dedication to the wild, The Search for the Genuine is a collection of new and previously published works, including musings on writing and meditation, journalism about tennis and shark-tagging, and so much more.
"Essentially charming... An essential installment in the Harrison canon" —Kirkus Reviews, starred review
Hardcover • $28.00
Read more about the book
---