Spotlight On: Fashion Victims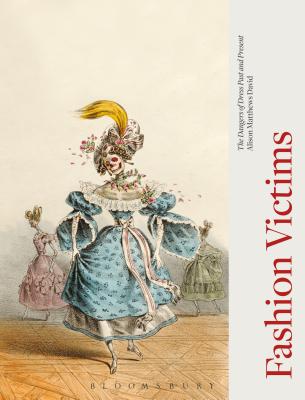 All our booksellers have very different tastes, and while there's some overlap, it's rare we find a book that we all agree is simply fantastic. This past week, one such book arrived, and we simply had to share it.
Fashion Victims, by Alison Matthews David, is simultaneously fascinating and horrifying. It delves into the fashion trends of the past—specifically, those that proved deadly to their wearers. From arsenic-based green dye to mercury-laced hats to toxic makeup and flammable tutus, it seems there were no lengths to which we would not go for fashion. The book is filled with vintage fashion plates, photographs from museum fashion collections, advertisements, and news items. It paints a vivid, if disconcerting, picture of the past, bringing up facts often overlooked amid the usual romanticized flurry of lace bonnets and bustles.
Kendall says: "As someone with a fascination with weird, and often morbid, history, as well as a keen interest in fashion throughout the ages, I'm absolutely obsessed with this book. From flammable fabrics to arsenic dyes, this book is a treat for any weirdo like me."
Anthony says "Exploding crinolines, poisonous dresses, and hats that will literally drive you to madness are just some of the beautiful (and lethal) fashion items featured in this book. The theatre costumer part of me loves the clothes and the forensic anthropologist part of me love the crazy ways people have died!"
Caitlin says: "I'm a bridal seamstress in my spare time, so fashion and historical fashion in particular are super interesting to me. Lots of the techniques used in special occasion garments like bridalwear are vintage, and learning about how these things used to be made (and how dangerous they could be) is absolutely fascinating. Morbid, definitely, but fascinating."
Can't get enough weird history, morbid factoids, or haute couture? Here are a few more very niche titles!
---