Spotlight On: The Hitchhiker's Guide to the Galaxy Illustrated Edition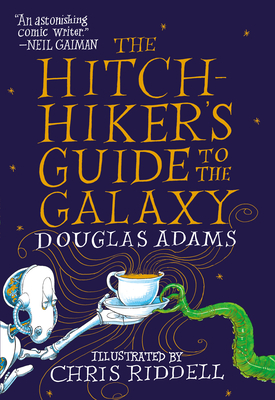 Last month we did a spotlight on the illustrated edition of The Golden Compass, and today we're back with another brilliant illustrated edition: The Hitchhiker's Guide to the Galaxy.
Hitchhiker's Guide has already moved through various different media. What began as a comedy radio series has expanded into a six-book "trilogy", a feature film, multiple TV shows, and even a video game! The franchise is well-beloved by many, and has grown into a global phenomenon, with the novels translated into over 30 languages. The Hitchhiker's Guide to the Galaxy, the first installment in the book series, has become a must-read in the genre of comedic science-fiction.
This new edition brings Douglass Adams' brilliantly crafted comedy to a whole new level with dazzling illustrations by Costa-award winning illustrator Chris Riddell. Riddell's previous work spans decades and genres, including collaborations with Neil Gaiman on The Sleeper and the Spindle, Pirate Stew, and more. His drawings for Hitchhiker's Guide are whimsical and smart, wholeheartedly embrace (and expanding) the novel's ingeniously bizarre world.
Whether or not you've read the book before, you're in for a treat with this illustrated edition!
---
It's an ordinary Thursday morning for Arthur Dent . . . until his house gets demolished. The Earth follows shortly after to make way for a new hyperspace express route, and Arthur's best friend has just announced that he's an alien.
After that, things get much, much worse.
Illustrations by Chris Riddell, from the 2021 illustrated version of Douglass Adam's The Hitchhiker's Guide to the Galaxy