Spotlight On: Norse Mythology, Volume I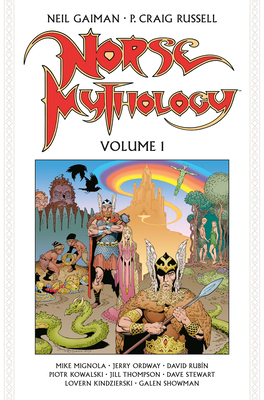 Ready to take your nerdiness to the next level? Our latest Spotlight title will get you there.
Adapted from Neil Gaiman's Norse Mythology, which is, of course, a retelling of actual Norse myth and legend, this graphic novel features an all-star group of artists who bring Gaiman's stories to life in glorious technicolor.
This volume collects the first six issues of the Norse Mythology comic, and includes seven stories. With the exception of the first two tales, which are illustrated by P. Craig Russell and Lovern Kindzierski, each story features the work of different artists. The general character designs remain consistent, so you'll always recognize the gods of Asgard, but each artist presents them through their own unique lens. It's a bit like sitting around a campfire with a group of friends as each tells a story about the escapades of gods and monsters.
At the back of the book, you'll also find some "bonus features," including a cover gallery for all the issues collected in this volume, and a "sketchbook" that explores pages-in-progress and character designs. It's interesting to see how the artists' work affected one another, so that the overall effect is highly collaborative even though artists worked on their own stories.
There's no single overarching plot to this collection—each story is episodic, exploring one particular adventure of Norse myth. This makes it easier to savor each story's arc and artwork individually, and though this is a short book and a quick read, you might find yourself pausing between tales just to absorb what you've experienced. A beautiful addition to your collection, whether you're a Gaiman fan, a mythology buff, or a fan of any of the talented artists who contributed!
---