Stan Lee (1922-2018)
Thursday, November 15th, 2018
By Jodie Brandt, Brilliant Books Comics Curator
Stanley Martin Lieber, known to the world as Stan Lee, was born on December 28th, 1922 in New York, New York. A storyteller from a very young age, Mr. Lee would eventually collaboratively create such iconic comic book characters as the X-Men, Iron Man, Thor, the Incredible Hulk, and the one I most closely identified with, Spider-Man. He was a forerunner of Marvel Comics and participated in all of their endeavors up until just recently, even appearing in cameos for each of the Marvel Comics movies.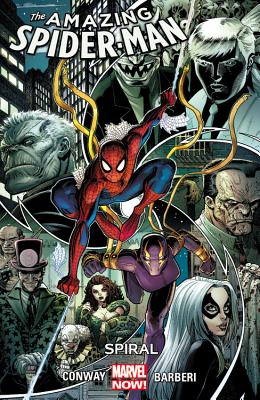 The characters that he developed had wide-spanning and lasting appeal for a multitude of readers. Each of them, while imbued with fantastic powers, also had everyday problems and faults. They struggled with things like racism, freedom, loss of family and friends, as well as common obstacles like money problems and divorce. I stand with millions of other fans with whom Stan Lee had a profound impact. Characters like Wolverine, and Spider-Man saw us through hardships like the space shuttle Challenger explosion and the attacks of 9/11, but also stood beside us when great things were happening as well. To this day I own a copy of Amazing Spider-Man #583 in which the friendly web-slinger meets the newly elected President Barack Obama!
To say that Stan Lee had an impact only on pop culture would be demeaning. His work, aside many others, including Jack Kirby, would go on to create worldwide fandom and entertainment. One of Stan's most famous quotes was 'With great power, comes great responsibility.' Just a few words, but words that echo through all levels of culture and society.
Stan Lee passed away on November 12th, 2018, in Los Angeles, California, and though he may not be with us physically, his legacy will pass on from generation to generation. I think I speak for us all when I say - Thank you, Stan and Excelsior!