Stephen Hawking (1942-2018)
Wednesday, March 14th, 2018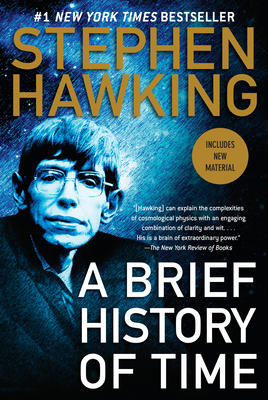 Stephen Hawking, visionary scientist and author of A Brief History of Time, has died at the age of 76.
Hawking was only 22, studying for his PhD in cosmology at Cambridge, when he was diagnosed with ALS (also known as motor neurone disease), which was beginning to slowly paralyze him. He was given only two years to live, and despite initially suffering from depression at the altered course his life would take, Hawking's brilliance was unaffected.
He went on not only to prove his doctors wrong, but to formulate theories that changed the way theoretical physicists view the universe, from the properties of black holes to the very origins of universe itself. He was the Lucasian Professor of Mathematics at Cambridge from 1979 until 2009, a position which was once held by Sir Isaac Newton. Despite the complex nature of the subjects he studied, Hawking also had a gift for making them accessible to the layman. His first book, A Brief History of Time, was published in 1988 and sold more than 10 million copies. It was made into a film, produced by Stephen Spielberg, in 1992.
Hawking's popularity among the general public and knack for making science accessible led to a level of recognition and fame almost unheard of in the world of science, let alone a field as dense as theoretical physics. He was portrayed on both film and television by award-winning actors Eddie Redmayne and Benedict Cumberbatch, and made appearances himself on a variety of television shows, including, most recently, The Big Bang Theory. Though frequent speaking engagements, guest appearances, and lectures limited his time for his own work, Hawking continued his own research and writing throughout his life. He released several other books for the general public as well as numerous scientific publications.
Stephen Hawking died at home on March 14th. He will be remembered not only by the scientists and fellow ALS patients he inspired, but also by the readers and fans who first discovered the wonder of the universe through his work. Hawking's work and circumstances gave him a unique perspective on the world, including this advice for making the most of one's life, however long or short it may be:
"One, remember to look up at the stars and not down at your feet. Two, never give up work. Work gives you meaning and purpose and life is empty without it. Three, if you are lucky enough to find love, remember it is there and don't throw it away."