Tony Horwitz, 1958-2019
Prize-winning journalist and bestselling author Tony Horwitz died unexpectedly this week.
Best known for his participatory journalism and non-fiction, Horwitz career spanned a range of publications, including the The Fort Wayne News-Sentinel of Indiana and The Wall Street Journal, for which he was a foreign correspondent from 1990-1993. Upon his return to the US, he continued domestic reporting, and in 1995 won the Pulitzer Prize for National Reporting for his work on exposing the poor conditions low-wage workers face on a daily basis.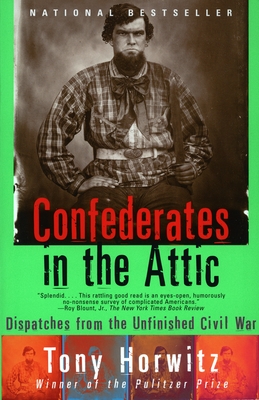 A lifelong history buff, Horwitz turned his investigative bent toward nonfiction books in 1998, with the release of Confederates in the Attic, a bestselling deep-dive into the lingering elements of the Civil War, interviewing devoted reenactors, the last remaining Civil War widow, and others for whom the Civil War is less resolved than history books would have us believe.
Other books soon followed, combining Horwitz love for history and storytelling with his signature style of information gathering. His works include Blue Lattitudes (2002), A Voyage Long and Strange (2008), and Midnight Rising (2011). His final book, Spying on the South, was released just this month, and chronicles the life and work of Frederick Law Olmsted, who worked as an undercover New York Times correspondent in the South in the 1850s.
Horwitz died this week while out for a walk in Chevy Chase, Maryland, apparently due to a sudden cardiac event. He was 60. In an ironic twist, he had only recently joked in a New York Times article that his habit of employing "bar-stool democracy," as he called his method of interviewing, had been detrimental to his health. "Last week I saw my cardiologist," he wrote. "He told me I drink too much."
Nevertheless, he was a proponent of this sort of personable research. When asked how he hoped to be remembered by the subjects he intereviewed for his books and articles, he replied "As that guy from 'up north' who asked about their job and life and hopes for the future...and thought what they said was important enough to write down."